Chinese spy balloon was able to transmit information back to Beijing By Natasha Bertrand, CNN Updated 9:38 AM EDT, Mon April 3, 2023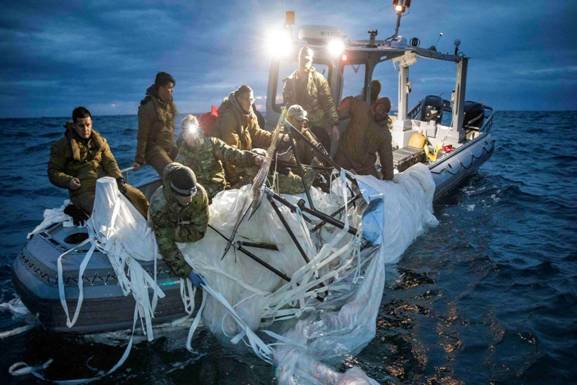 US sailors recover a suspected Chinese high-altitude surveillance balloon that was downed by the United States over US territorial waters off the coast of Myrtle Beach, South Carolina, on February 5, 2023.
U.S. Fleet Forces/U.S. Navy/Reuters
WashingtonCNN —
"The Chinese spy balloon that transited the US earlier this year was able to capture imagery and collect some signals intelligence from US military sites, a source familiar with the matter tells CNN."
"The balloon was able to transmit information back to Beijing in real time, the source said, and the US government still does not know for sure whether the Chinese government could wipe the balloon's data as it received it. That raises questions about whether there is intelligence the balloon was able to gather that the US still doesn't know about."
"Still, the intelligence community has not been overly concerned about the information the balloon was able to gather, the person said, because it is not much more sophisticated than what Chinese satellites are able to glean as they orbit over similar locations."
This says to me [I'm Just Sayin' …] that the balloon was more sophisticated than orbiting Chinese Satellites. Not sure who 'the person' is who said it but that's quite a statement.
I'm Just Sayin' …
You can read the entire article here https://www.cnn.com/2023/04/03/politics/chinese-spy-balloon/index.html